India: The "near perfect" fix on terror camps inside Bangladesh !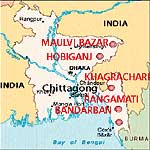 In the coming days, lower Assam is expected to witness deadly attacks. Sources said the ULFA has reorganised its cadres into five 'battalions', each assigned with a specific responsibility targeting the south bank districts of lower Assam. The '109 Battalion' has the heaviest task. This lot is based in Bangladesh's Rangpur and Mymensingh districts. It has built up small camps and transit facilities
B'desh plays ultra cool mine host
Bangladesh, and to some extent the Myanmar-Naga hills, are thick with terrorists belonging to all organisations operating in India's north-east. High level sources have told The Pioneer that the worst fears about Pakistan's ISI having opened a second front against India has come true since October 2 when bombings by the ULFA and the National Liberation Front of Bodoland (NDFB) elements resumed with unprecedented ferocity.

The destruction of their bases in Bhutan opposite lower Assam in December following a superbly coordinated Indian and Bhutanese Army operation was a big setback to the ULFA and the NDFB. But over the past nine months, sections of Bangladesh's military establishment have accommodated all its cadres in three camps: Satchari under Chunarughat PS in Hobiganj, Alikadam transit camp in Bandarban district and Taraban under Panchari PS in Khagrachari.
Specific information has been provided to Dhaka about two NDFB camps. One of them, Boyalchari, is for its 'third battalion'. It is located in the Chittagong Hill tracts (CHT) under Dighinala PS. The dreaded National Liberation Front of Tripura (NLFT) has five camps in CHT - Samai Tuisha, Boyalchari, 'Hong Kong', Shankachari and Lalu Kalu.
Another Tripura group, the All-Tripura Tiger Force (ATTF) is thriving in six camps, also in CHT. It has two camps in Satchari and others are at Kalenga, Tarabancharra, Biswamanipara and Takhirai. Based from here, the two tribal terrorist groups operate with impunity in Tripura, walking in and out of Indian territory with ease.
Manipur's People's Liberation Army has camps in Kongagaon, Srimangal and Kulaura in the Moulvibazar district. The same district houses three camps of the Hynniewtrep National Liberation Council.
Though the recent attacks are carried out by cadres operating in the Myanmar-Naga hills, the operations are being coordinated by leaders based in Dhaka.
Interrogation of captured ULFA cadres led to the revelation that six of the 14 members of its 'Central Executive Committee' are now permanently based in Bangladesh along with a large number of commanders and deputy commanders. Thus Bangladesh is the operations base of the ULFA, sources said.
In the coming days, lower Assam is expected to witness deadly attacks. Sources said the ULFA has reorganised its cadres into five 'battalions', each assigned with a specific responsibility targeting the south bank districts of lower Assam. The '109 Battalion' has the heaviest task. This lot is based in Bangladesh's Rangpur and Mymensingh districts. It has built up small camps and transit facilities
Pioneer News Service