India: Intell sting - Verappan shot dead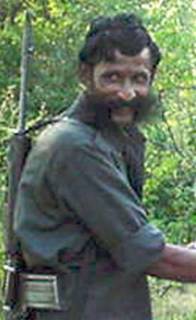 Koose Muniswamy Veerappan:
"This was indeed a difficult mission because he was a worthy foe. It was not very easy to get him," Kumar said. "This operation was coming at the end of a long wait, a desperate wait.He said intelligence agents and police informers had infiltrated villages in the area and worked as drivers, masons and hawkers for months to gather information about Veerappan and his men who were suspected to be hiding nearby.
Posted by Hello
Police kill India's most wanted bandit




Narayanan Madhavan



BANGALORE, India (Reuters) - India's most wanted bandit has been killed by police in a gun battle while on his way to get treatment for an eye problem, ending a two-decade hunt for a man who killed more than 100 people and kidnapped a movie star.

Koose Muniswamy Veerappan, a tall, wiry bandit in his 50s, sported a long twirling moustache and was usually clad in military camouflage. He was known as the "Jungle Cat" for his ability to move and disappear in the forests of south India that were his home for decades.

Veerappan was also accused of killing thousands of elephants for their tusks and smuggling ivory and sandalwood worth millions of dollars.

"This was an extraordinary intelligence operation," K. Vijay Kumar, head of a special police force formed to nab Veerappan, told a news conference on Tuesday in Dharmapuri district in the southern state of Tamil Nadu, where the shootout took place.

"This was indeed a difficult mission because he was a worthy foe. It was not very easy to get him," Kumar said. "This operation was coming at the end of a long wait, a desperate wait.

He said intelligence agents and police informers had infiltrated villages in the area and worked as drivers, masons and hawkers for months to gather information about Veerappan and his men who were suspected to be hiding nearby.

Policemen in civilian clothes waited in camouflaged vehicles late on Monday following information that the group was planning to visit a hospital in an ambulance -- driven by a policeman in disguise -- to get Veerappan treated for an eye problem, he said.

The gang of four opened fire when stopped and asked to surrender, forcing police to retaliate, Kumar said adding that the gun battle lasted for about 20 minutes.

Veerappan had a five million rupee bounty on his head -- a high reward by Indian standards -- and was believed to have had ties with Tamil militants that officials said extended to Sri Lanka's Tamil Tigers.

He hit world headlines in 2000 when he kidnapped ageing film star Rajkumar (Eds: one name) and held him hostage for 108 days.



BLOOD-THIRSTY REPUTATION



Born to a poor ethnic Tamil family in a southern forest village, Veerappan is said to have killed his first elephant when he was a teenager. According to local legend, he was inspired by a notorious bandit of the 1950s and 1960s and soon joined local poachers.

He first came to the notice of authorities when he killed a forest official trying to stamp out sandalwood smuggling in the mid-1980s. Veerappan sealed his blood-thirsty reputation when he lured another top forest officer with the promise of surrendering and cut off his head.

Veerappan chopped some of his rivals into pieces and tossed them into rivers and shot and killed policemen as they slept, police records said.

He has inspired at least two Bollywood movies and despite his fearsome reputation, Veerappan was seen by many villagers as a Robin Hood figure.

It was often with the help of villagers that he eluded troops and police in the jungles straddling Karnataka and Tamil Nadu states. He was arrested in 1986 but slipped out of handcuffs and disappeared back into the forest.

A special police force was later set up by the two states but Veerappan ran circles around them for years.

Most of his guns and equipment, including automatic rifles and sophisticated binoculars, were plundered from police. His gang ambushed patrols, made bombs and planted land-mines, blowing up police vehicles.

His last big crime was in 2002 when he kidnapped regional politician H. Nagappa from his farmhouse in Karnataka. Nagappa was later found dead in a forest.

Veerappan denied responsibility for the death, saying police had killed him in a shootout. Authorities dismissed the charge.

Reuters 19/10/2004