Global Jihad: The Demo-Mockery Show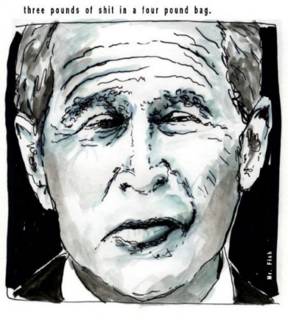 Most of these politicians are not just hypocrites - they behave like prostitutes. It was the late Imam Khomeini who said democracy is like prostitution, each one of the candidate prostitutes his or her principles to secure maximum amount of votes; rights and wrongs simply do not enter the equation. It does not matter where the votes are obtained from, and at what price, as long as they are successful in getting elected.

The real power of the vote is restricted to certain pre-determined options. In a dictatorship this may be restricted to one party, in a democracy it is usually two and at the most three or four. These choices have already been produced by the powerful and the wealthy in the society; hence the role of the vote is merely to submit to these predefined alternatives. The power of the vote is therefore illusionary and free election remains the mirage of democracy.

So, 'free' elections only have any significance when it is 'fair'. In a fair election all the candidates from all sections of the society have a near equal chance of competing! In the same way it is futile to talk about peace without justice and justice without retribution. The hypocrites with one eye open see one-side of the equation. They constantly yell out words like 'free', 'peace' and 'justice' but not what the words really mean in the context of a certain reality.
The Demo-Mockery Show




Yamin Zakaria



In the latest episode of the Demo-Mockery show, starring George Bush, and Hamid Karzai, Tony Blair will soon make a guest appearance. But, please hold your laughter as the show has a serious side to it. The outcome of these shows in the guise of 'elections' and 'election-debates' will affect the lives of millions in places like New York, Washington, Kabul, Baghdad, Fallujah, and London.

Elections can be entertaining like in the US or relatively sombre like in the UK but most elections are more or less predetermined. The recent election in Afghanistan is an example. Only the US approved candidates could practically participate. Under such a framework coupled with the funding received from the US government, Hamid Karzai was guaranteed to win. He was the hare racing with a motorised engine against the tortoises!

It is the weight of money that generates the loudest voice not the couple of votes exercised every decade by the ordinary people. Anyone attempting to stand as an independent candidate in the US elections without the support of the powerful Multinationals would not get very far. However, people still feel they have some sort of power by their ability to cast a vote and stand as a candidate for election.

The real power of the vote is restricted to certain pre-determined options. In a dictatorship this may be restricted to one party, in a democracy it is usually two and at the most three or four. These choices have already been produced by the powerful and the wealthy in the society; hence the role of the vote is merely to submit to these predefined alternatives. The power of the vote is therefore illusionary and free election remains the mirage of democracy.

So, 'free' elections only have any significance when it is 'fair'. In a fair election all the candidates from all sections of the society have a near equal chance of competing! In the same way it is futile to talk about peace without justice and justice without retribution. The hypocrites with one eye open see one-side of the equation. They constantly yell out words like 'free', 'peace' and 'justice' but not what the words really mean in the context of a certain reality.

For these people, the fact that one can theoretically stand in the election race as a tortoise proves that democracy is working. This naturally suits them, as they are higher up the democracy ladder and are guaranteed a slice of the cake. Therefore, they dictate the virtues of free election and democracy to the tortoises. In the same way Blair and Bush taunted the anti-war demonstrators, reminding them of their privilege to demonstrate 'freely'. This is acceptable as long as the protestors do not become a real obstacle. Therefore, like the 'free' elections, the protestors can shout, but in reality they have no chance of succeeding.

Election debates or parliamentary debates are in most cases false, because the candidates are never honest. The opposition seeking power will express certain criticisms and brag on about their commitment to particular principles however, as soon as they are in power, they behave in a similar manner to their predecessor, if not worse.

John Kerry is not differing with George Bush about the substance of his foreign policy but simply that he can do the same thing more efficiently. When born-again Bush was asked about homosexuality during the recent election-debate, he buckled and pleaded ignorance on the subject despite his constant reference to the bible. The real reason for his cautious response was that he did not want to lose the voters in places like San Francisco, New York and of course good old Florida!

Many of the Muslims and the socialist orientated masses in the UK had the perception that the Labour party is a party of the ordinary masses. But Labour leadership ignored their voice and the world opinion and allied with the fanatical rightwing cabal of the US in the war against Iraq. The Labour party in fact proved to be just as nasty, racist, hypocritical and vicious as the rightwing conservatives.

Now Mr. Blair is sending his boys to assist the Americans as they prepare to slaughter the innocents in Fallujah. Their crime is simply not yielding to the designs of the true axis-of-evil - the Anglo-Saxon-Zionist fascists. In line with the nature of hypocrites, the goal post has changed from seeking WMDs to regime change, then 'hunting' the ideas inside Saddam's head and the mythical foreign fighters, finally the Iraqis of Fallujah, Ramadi and anywhere else that refuses to comply with the designs of Adolf Bush and Benito Blair.

Rivalries between election candidates are not based around their conviction in certain principles but sheer opportunism. The only principle that they adhere to is one of maintaining 'flexibility', which is simply hypocrisy as they mean different things to different people at different times. If there were a rise in the anti-immigrant sentiments amongst the natives in the UK and the US, the politicians would also start to adopt such ideas in order to appeal for votes.

Most of these politicians are not just hypocrites - they behave like prostitutes. It was the late Imam Khomeini who said democracy is like prostitution, each one of the candidate prostitutes his or her principles to secure maximum amount of votes; rights and wrongs simply do not enter the equation. It does not matter where the votes are obtained from, and at what price, as long as they are successful in getting elected.

If Bush is re-elected it can mean only two things, either the US is a moronic nation that has once again produced another stupid leader or that democracy is not working as the likes of Bush is not representative of the American nation.

George Bush is certainly not very bright; in the words of Nelson Mandela, he cannot think straight. Articulation and even basic general knowledge is not a strong point for Bush but that seems to be one of his appeals to the US masses! Perhaps he is not the real leader; it is the shady neo-cons and big businesses behind the scene that hold the real reigns of power. That said, many would cite the election of Bush as clear evidence that democracy is not working. Such 'elected' leaders only function in the interest of the wealthy party 'donors'. Furthermore, political participation by the masses continues to diminish as they lose confidence in the system.

The US is a superpower; it makes immense contribution towards industry, science, arts and technology. It certainly has people of calibre, sincerity and intellect who are genuinely committed to certain principles. They would not prostitute themselves to big businesses or certain lobby groups and can genuinely represent the masses by addressing their problems. In the current reality, only lip service is given to such notions, which increases in frequency and amplitude during the pre-election time of hunting for votes. This is the real demo-mockery.

Under the constant barrage of propaganda, many assume that 'free' election is exclusive to democracy, which is false. Election is a feature of most societies. For elections to be free and fair there has to exist a certain framework. As an example, business should be prevented from funding candidates. Power has to be distributed so that those who are at a disadvantage can have a better chance to compete. Part and parcel of this would be to allocate certain amount of position to those who are guided by ideas rather than material interests. In the Islamic world this could be the Islamic Scholars, journalists, academics. And in the West, this could be the equivalent group of people, dedicated to certain set of beliefs and they cannot be bought cheaply at the marketplaces.



Email to Dak Bangla Yamin Zakaria who writes from London, UK






Copyright © 2004 by Yamin Zakaria