Bangladesh: The Ramadhan Rumble in Rajshahi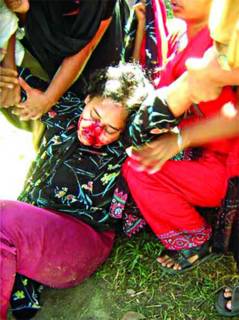 A female student, injured in the police action on the general students at Rajshahi University on Friday, is being tended by other students.
It all began when some Tapasi Rabeya Hall residents, who were watching television at about 12:30am Saturday, saw three armed robbers on the roof of the hall. They cried out for help and called the proctor, assistant proctors, provost, house tutors and the hall superintendent. Four women house tutors, provost and the hall superintendent went to the hall after an hour, which angered the students. The robbers meanwhile left the hall. Finding no such outsiders, the proctors and the administration officials charged the students, saying that some students were trying to create trouble on the campus. The university authorities threatened the students with taking punitive measures against those who had been trying to create trouble.The hall residents chanted slogans against the authorities in protest at misbehaviour and the threat. They demanded resignation of the provost, proctor and house tutors.






RU closed sine die after series of clashes




SM HUMAYUN KABIR



The University of Rajshahi was closed for an indefinite period on Saturday after a series of clashes in which more than 200 teachers, students, journalists and police personnel were injured.

The residents, who were asked to vacate the halls by 5:00pm, left the campus by the evening. But most girl students initially refused to leave their halls at such an odd time.

Fifty of the injured sustained bullet wounds in the clashes between the police and the university students that resulted from an incident of armed robbers entering a women's hall.

More than 50 students, mostly girls, and teachers were admitted to Rajshahi Medical College Hospital and the university medical centre.

The agitating students, Jatiyatabadi Chhatra Dal activists and 544 controversially recruited employees vandalised all the university buses, offices in the administrative building, department and halls of residence.

The police fired 100 rubber bullets, lobbed about 100 teargas canisters and charged at the teachers and students with truncheons.

The police arrested 50 students, including five girls, in this connection. The arrested include the university unit Chhatra Front president, Nasir Uddin and the university unit Chhatra Union president, SM Chandan, and the district unit general secretary, Muniruzzaman Maink.

The vice-chancellor at noon declared the university closed by his special power. The syndicate later approved the decision.

It all began when some Tapasi Rabeya Hall residents, who were watching television at about 12:30am Saturday, saw three armed robbers on the roof of the hall.

They cried out for help and called the proctor, assistant proctors, provost, house tutors and the hall superintendent.

Four women house tutors, provost and the hall superintendent went to the hall after an hour, which angered the students. The robbers meanwhile left the hall.

Finding no such outsiders, the proctors and the administration officials charged the students, saying that some students were trying to create trouble on the campus.

The university authorities threatened the students with taking punitive measures against those who had been trying to create trouble.

The hall residents chanted slogans against the authorities in protest at misbehaviour and the threat. They demanded resignation of the provost, proctor and house tutors.

Tension mounted on the campus in no time and the Rabeya Hall residents confined six university officials in the hall office.

Provost Shahriar Enam, house tutors Monowara Begum, Mahbuba Begum, and Ferdousi Binte Habib and the superintendent, China Rani Sarkar, were confined.

The provost and house tutors were freed before iftar with the help of the Bangladesh Rifles and the police.

More than 1,500 girl students, residents of the four halls of residence for girls, brought out a procession and tried to enter the residence of the vice-chancellor.

But the police stopped them from doing so till noon. Failed to meet the vice-chancellor, the students staged a sit-in demonstration till noon.

Vice-chancellor Faisul Islam Faroqui and proctor Shamsul Alam Sarkar remained confined in their residences for eight hours, between 4:00am and noon.

The university administration employed the police, activists of the Chhatra Dal and Islami Chhatra Shibir, and the newly recruited Class III and IV employees to negotiate the matter, but they failed.

A group of teachers and Chhatra Dal activists allegedly threw stones at the agitating students when the clashes began.

The police then charged at the girl students with truncheons, lobbed about a hundred teargas canisters and fired rubber bullets to disperse the students.

The clashes spread all over the campus and the police began to beat teachers and students.

The police went to the mass communications department and beat three teachers — Shah Nistar Jahan Kabir, Abdulllah Al Mamun and Pradip Kumar Pandey. They also beat the students at the department.

Shah Nister Jahan Kabir and Abdullah Al Mamun, teachers of the mass communications department, Abdul Matin Taluikder, a teacher of the music and dramatics department, Kudrati Khuda of the physics department and another teacher of the economics department were admitted to hospital.

The injured students who were admitted to hospital are Mouli, Mahi, Manju, Jerin, Nipa, Jinia, Shakhina, Shilpi, Snigdha, Monisha, Shima, Sabnam, Pritu, Sushanta, Habib, Bipasha, Ima, Mili, and Mousumi.

An injured police constable, Montu, was also admitted to hospital.

Sangbad staff correspondent Jahangir Alam Akash, and the university correspondent of the Bangladesh Sangbad Sangstha, Anwar Hossain Anu, were among the injured.

A group of pro-BNP teachers, led by Nurul Absar, former proctor, allegedly roughed up the journalists and damaged the camera of four photo-journalists of Prothom Alo, Amar Desh, NTV and ATN Bangla.

The clashes lasted for three hours between noon and 3:30pm.

The girl students, gathered in front of the residence of the vice-chancellor, demanded that their five-point charter of demands should be met.

The demands include resignation of the vice-chancellor, proctor, and the provost of the Tapasi Rabeya Hall.

They burnt the proctor and the provost in effigy at the place, campus sources said.

No vehicles of the university's transport department could ply. No classes or examinations were held.

More than 500 more police personnel have been deployed on the campus and the main entrance was closed. Bangladesh Rifles personnel and the Armed Police Battalion were also deployed by the evening.

"The police acted on the directive of the university administration to contain the agitation programme on the campus," the Motihar police officer-in-charge, Akram Hossian, told newsmen.

The vice-chancellor could not be reached for comments. He was reluctant to talk with the journalists, sources in the vice-chancellor's office said.

The proctor said, "The police acted at their sweet will."

The Rajshahi University Teachers' Association president, Khalekuzzaman, condemned the incident and demanded punishment for the attackers.

A syndicate meeting at 7:15pm approved the vice-chancellor's decisions, made at about noon, of vacating the halls and closing the university "by the special power of the vice-chancellors."

The meeting also rescheduled the vacation of Eid-ul-Fitr, to begin on October 31 instead of November 2, said a release of the university.

The student organisations of the University of Dhaka, meanwhile, went out on demonstrations on the campus against the incidents on the Rajshahi University campus.

The Progressive Students' Alliance, a combine of eight left-leaning student organisations, brought out a procession on the campus.

The organisation leaders demanded arrest and trial of the intruders, and punishment for the police officials who attacked the students, teachers and the journalists.

The organisations held the high officials of the university responsible for the campus situation and demanded release of the students arrested in this connection.

Samajtantrik Chhatra Front president Khalequzzaman Lipon, Bangladesh Chhatra Union president Baki Billah, Bangladesh Chhatra Federation general secretary Moniruddin Pappu addressed a rally of the alliance at the arts building.

The alliance will go out on demonstrations on November 1 across the country to protest against the police attack. They will hold a rally on the Dhaka University campus today.

The alliance components, along with Bangladesher Samajtantrik Dal, Progressive Teachers' Forum and Shikkha Andolan Mancha, in separate statements, condemned the police action and the intrusion.

New Age 31/10/2004